...to old friends and newcomers, alike. Please explore the look on the new "Corporate Stress Management" pages. We think they'll appeal to the general public and site members as well as corporate clients. (All links are displayed at left.)
Many of these pages have been blown along a summer journey almost as uprooting as the itinerary that wafted our bodies from East Coast to West Coast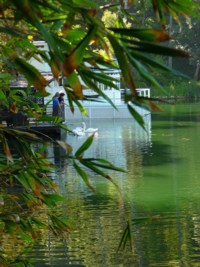 (and hopefully back again to inspect the gifts of "Isabel"), with stays in the Rockies and Midwest. Please bear with us over the resulting bumps — usual accompaniments to road and web construction — and feel free to alert us to glitches.
Not feeling stressed? Not even having a very corporate day? If you're accustomed to just browsing the varied content of this site in its previous form you may want to click on the "Adventures" link which will serve as a temporary portal to the material you're used to finding here (while we are restructuring the entire web site).
Shakespeare for the masses? Or masses of Shakespeare? One of our major undertakings is a new opening up on the web of inspirations from Shakespeare ("Shakespeare Unbound"). Not being satisfied with any of the alternative Shakespeare sites currently available, we are experimenting with new forms to enhance the accessibility of The Bard's creative genius. Please take a peek at our new display of what is commonly regarded as "the world's greatest love poetry" — Shakespeare's Sonnets — at the Literary Aspirations link.